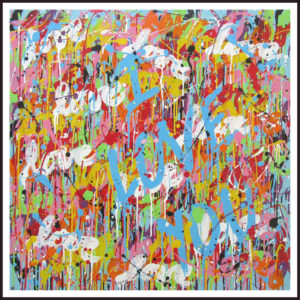 Première Edition Limitée "I love you"/50.
Je suis ravie de vous présenter la 1ère Edition Limitée, de l'oeuvre originale "I love you", tirée à 50 exemplaires (65 x 65 cm) !
Une impression pigmentaire sur papier de haute qualité (280 gr). Sa finition légèrement satinée offre à l'oeuvre une qualité d'image exceptionnelle, des couleurs vibrantes et éclatantes.
Elle est signée et numérotée sur le devant, livrée avec son certificat d'authenticité, prête à être encadrée par vos soins.
Elles sont réalisées par un Studio photo local français.
N'hésitez-pas à me contacter directement.
_____
First Limited Edition "I love you"/50.
I'm delighted to present to you the 1st Limited Edition, of the work "I love you", printed in 50 copies (65 x 65 cm) !
A pigment print on high quality paper (280 gr). Its slightly satin finish gives the work exceptional image quality, vibrant and vivid colors.
It's signed and numbered on the front, delivered with its certificate of authenticity, ready to be framed by you.
They are carried out by a local French photo studio.
Don't hesitate to contact me directly.
_______________________________________
Saatchiart Galerie

Il est possible aussi de collectionner des impressions de mes oeuvres, via SaatchiArt online :
Suivez le lien SaatchiArt, choisissez votre oeuvre sur "Artworks", puis sur "prints" pour sélectionner le format.
https://www.saatchiart.com/pelletane
 _____
Saatchiart Gallery
It's possible also to collect prints of my works, by SaatchiArt online :
Follow the link SaatchiArt, choice your on "Artworks", then "prints" to select the size.